The Salish Sea Ecosystem Conference brings together scientists, researchers, decision-makers, managers and knowledge-holders from First Nations and Tribes, agencies, community organizations, businesses, non-governmental organizations, and academia. Participants present the latest scientific research on the state of the ecosystem, share information about the application of knowledge from science and other sources, and guide future actions for protecting and restoring the Salish Sea Ecosystem.
The theme for this year's conference is "Shared Knowledge for the Future." An important aim of this conference is to work toward strategies for recovery and management that integrate across cultures, disciplines, and boundaries, and bring knowledge to action.
To this end, the conference conveners are calling for session proposals from the Salish Sea community. Sessions are groups of presentations that are organized around a unified topic. Each session is scheduled for 1½ hours and includes a collection of presentations.
Given the multi-sector nature of the conference, and in consideration of the issues we face, proposals that are applicable and engaging to the wide range of participants are encouraged.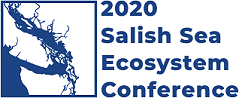 SSEC 2020 Focal Topics
Conference organizers identified three focal topics that reflect overarching challenges and opportunities that human and biological communities within the Salish Sea face now and into the future. Conference organizers will review session proposals and will determine the conference tracks at that time. Session proposals will be considered within each focal topic, or across them. While these three focal points offer a useful frame for the conference, organizers acknowledge and will consider session ideas outside of these three broad topics.
Types of Sessions
At this time we are accepting session proposals. We encourage proposals within the following four 90-minute formats:
| TYPE | DEFINITION |
| --- | --- |
| Traditional Session | Six participants, each sequentially presenting a paper, 15 minutes long. Typically presentations are 11 minutes, with 3 minutes Q&A, allowing 1 minute for session introduction & transitions |
| Alternative Session | Four participants, each sequentially presenting a paper, 20 minutes long |
| Panel Session | Session Chair moderates discussion with panel of speakers, with the panelists responding to each other and to audience inquiries throughout the session. Panel discussions typically conclude with a discussion or Q&A period |
| Snapshot Session | This is a highly structured and fast moving style that allows for a greater number of presentations, each 5 minutes long. Speakers are strongly encouraged to use the Ignite format utilizing 20 slides that auto advance every 15 seconds |
Please note that we are seeking only session proposals at this time. NO individual abstracts will be considered at this time.
A separate Call for Abstracts and Presenters will be released after session proposals are selected. Any submissions for individual presentations will be automatically rejected.
Deadline for Submission is July 12, 2019
Begin a Session Proposal:
© Salish Sea Ecosystem Conference